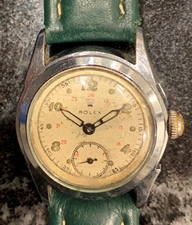 Status: Not Available – ON HOLD
This Rolex Oyster "Prima" is a small (30 mm) men's boy size vintage manual wind watch from the 1930's with an original patinaed dial. The high quality Rolex Prima movement is housed in a non-oyster contract case in base metal and with steel back. Many Rolex movements were imported and housed in non factory cases to avoid import duties, case is original.
The watch is in excellent working condition and was recently serviced by our watchmaker. Small men's watches like this are also suitable for women, please verify the measurements. Photos are not actual size of watch, it measures 30 mm across (not including crown) x 37 mm lug to lug and is fit with a green leather bracelet.