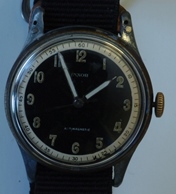 Status: Not Available – SOLD
This antique vintage Inxor military watch truly looks like it has been at war, the brass is exposed on the bezel from years of use and the upper fixed lug has had a crude but effective repair, possibly done close to the battlefield. In spite of the rough looking case I really like this watch a lot!. The deep black dial is original and in fantastic condition with only a slight loss of paint in the off-white seconds track (between 23 and 27 seconds). The case body is base metal and the snap back is stainless steel. The Swiss jewelled movement is in excellent working condition and has just been serviced by our watchmaker.
Photos are not actual size of watch, the case measures 34 mm across (not including crown) x 42 mm lug to lug and is fit with a new black nylon Nato bracelet.