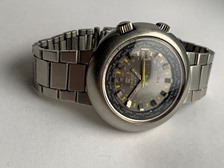 Status: Available for CAD $1485 / USD $1175
Choose Payment Button: Canada, USA or International Contact Seller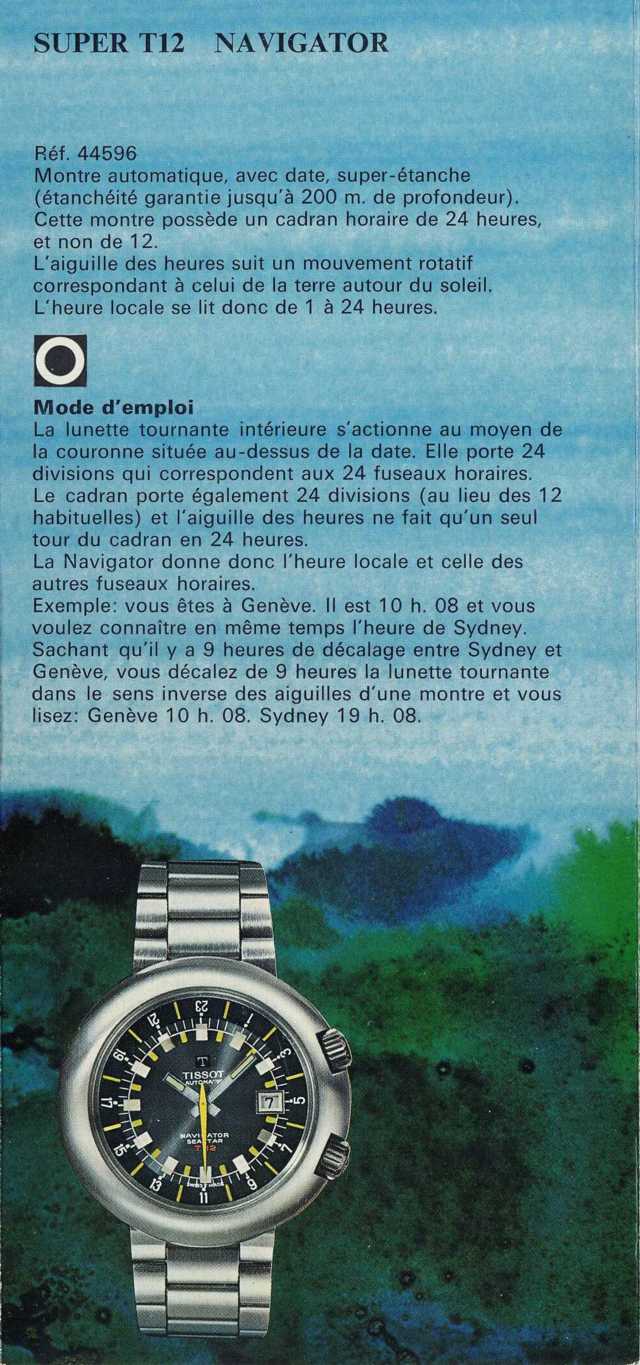 page from 1969 Tissot Manual
Tissot Super Navigator T12 World Time Compressor with 24 hour dial circa 1969. Watch is in good physical and mechanical condition with original dial, two signed crowns and original signed steel bracelet. The Tissot 21 jewel automatic movement works well and keeps time. Below is a translation of French manual above (from Chuck Maddox website) :
Super T-12 Navigator
Réf. 44596: Large sized diver's watch, super-tight (Water resistance guaranteed up to 200 meters deep). This watch has 24 hours time dial, not 12, the hour hand rotates the dial every 24 hours, corresponding to the earth rotating the sun (or earth around it's axis), the standard time is thus read from 1 to 24 hours.
Instructions:
Internal rotating bezel is actuated by means of the crown located above the date. It's dial's 24 divisions which corresponds to the 24 time zones. The bezel also has 24 divisions (in the lieu of a conventional watch's 12 divisions) and as a result the hour hand makes only one turn of the dial of every 24 hours. Navigator thus gives the local hour and that of the other time zones. Example: you are in Sydney. It is 19 h. 08 and you want to know the current time in Geneva. Knowing that there is a 9 hour backwards shift between Sydney and Geneva, you adjust the internal bezel to match the local hour hand indicated. Counting backwards 9 hours on the under crystal bezel and you see indicated: Genéve 10 h. 08. Photos are magnified and show details not seen by naked eye, the case measures 44 mm across (not including crown) x 43 mm lug to lug x 14 mm deep.