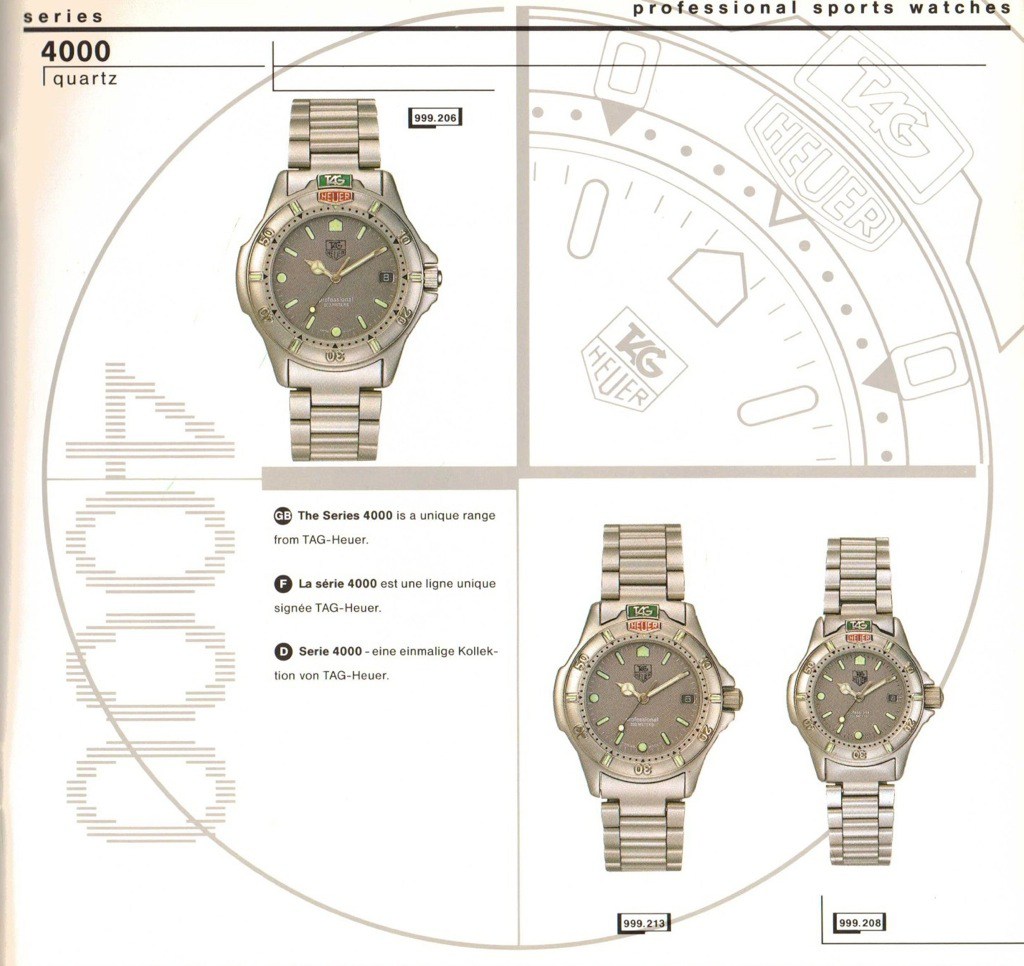 1990's Watch Advertisement
Great looking mid 90's Tag Heuer Professional 200 meters 4000 series (small/women's wrist size) with grey dial. The model number is WF1211-KO. Photos are magnified and show details not seen by naked eye, the case measures 35 mm across (not including crown) x 39 mm lug to lug and is fit with original steel bracelet, 17 mm (6 3/4 inch) overall size
Here is some information about dating Tag Heuer watches;
Early watches (1990-92) have the Reference numbers in the six digit format XXX.XXX, where:
1st Digit: Movement (9= Quartz; 6= Automatic)
2nd Digit: Series (9 = 4000 Series)
3rd Digit: Bezel/ case (9= Stainless steel; 5= Gold/ Stainless steel two-tone; 4 = Gold)
4th Digit = Dial colour (2= Grey, 7 = White, 4= Gold)
5th and 6th Digits: Case Size: (06 = Full size; 13 = Mid; 08 = small)
After 1992 the reference number change to a alfa numeric format, two letters followed by for numerals, AA####
1st Character = W= Analog or C= Chornograph
2nd Character = Series… H= 6000 A= Vinatge F1 series, D= Vintage 1500, E = Vintage 2000, , F= 4000, G= S/el Series, I=S/el Leather, K= 2k Classic, L= Kirium , M=2000 Sport Series, N= 2k Exclusive, =AH current F1 etc…. I know there a bunch of Classic Series that follow (Monaco, Carrera, Monza, etc) but those aren't in my recall anymore.
3rd Character (1st digit) = Movement 1= Qtz 2 = Automatic 3= Manual Wind 5 = Chronometer (there is a 7, but I think that's the new wheel chronos..)
4th Charcter (2nd digit) = Size 0= Magnum/Grande, 1 = Gents, 2=Midsize 3= Ladies, 4= Ladies Mini
5th Character (3rd digit) = Case base material 1= Stainless Steel, 2= Steel and Gold Plate, 3=All Gold Plated, 4 = Solid 18k, 5= Steel and Solid 18k
6th Character (4th digit) = Dial color No real standard across the models anymore.
A third alpha was introduced somewhere around 2002 for the expanded line and new iterations of many of the series (eg WAH1110) – we have no information about these codes at this time.